2008 Ford Econoline E-250 - 1FTNE24W38DB02799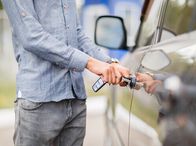 Mileage:
152,584 mi
4.5 (12)
| | |
| --- | --- |
| Body Style: | Van |
| Engine: | 8 Cyl Gasoline |
| Transmission: | Automatic |
CHECK AVAILABILITY
2020 Ford F-150 Lariat - 1FTEW1EP1LFB29530
Mileage:
9,105 mi
Exterior Color:
Blue
4 (6)
| | |
| --- | --- |
| Body Style: | Pickup |
| Engine: | 6 Cyl Gasoline |
| Transmission: | Automatic |
CHECK AVAILABILITY
2017 Ford F-150 XL - 1FTFW1EG8HFB92054
Mileage:
72,930 mi
Exterior Color:
White
Interior Color:
Gray
4 (8)
| | |
| --- | --- |
| Body Style: | Pickup |
| Engine: | 6 Cyl Gasoline |
| Transmission: | Automatic |
CHECK AVAILABILITY
2018 Ford Escape SEL - 1FMCU9HD4JUB22363
Mileage:
66,043 mi
Exterior Color:
Gray
Interior Color:
Black
4 (9)
| | |
| --- | --- |
| Body Style: | SUV |
| Engine: | 4 Cyl Gasoline |
| Transmission: | Automatic |
CHECK AVAILABILITY
2016 Ford Escape SE - 1FMCU9GXXGUC37862
Mileage:
44,764 mi
Exterior Color:
White
Interior Color:
Black
4.5 (9)
| | |
| --- | --- |
| Body Style: | SUV |
| Engine: | 4 Cyl Gasoline |
| Transmission: | Automatic |
CHECK AVAILABILITY
2018 Ford Escape SE - 1FMCU9GD1JUC85411
Mileage:
38,194 mi
Exterior Color:
Red
Interior Color:
Black
4.5 (4)
| | |
| --- | --- |
| Body Style: | SUV |
| Engine: | 4 Cyl Gasoline |
| Transmission: | Automatic |
CHECK AVAILABILITY
2019 Ford F-150 Raptor - 1FTFW1RGXKFA43078
Mileage:
8,527 mi
Exterior Color:
Red
4 (10)
| | |
| --- | --- |
| Body Style: | Pickup |
| Engine: | 6 Cyl Gasoline |
| Transmission: | Automatic |
$69,000

$1236.76 Est. Mo.
CHECK AVAILABILITY
SEARCH CAR INVENTORY
YEAR END CAR DEALS!!
View all 7 cars in New castle, PA best yet cheap priced cars listed for sale by used car dealerships, lots or for sale by owners near New castle, PA, Lawrence County area partnered with Used Cars Group. Quick Facts: Average price is $31,338. The average mileage on these vehicles is 39,927 miles. Hablamos Espanol! Llamenos acerca carros usados en New castle, PA a la venta.

Any Credit Ok!