2018 Nissan Titan XD - 1N6BA1F49JN520091
Mileage:
19,589 mi
Exterior Color:
Gray
Interior Color:
Black
4.5 (12)
| | |
| --- | --- |
| Body Style: | Pickup |
| Engine: | 8 Cyl Diesel |
| Transmission: | Automatic |
CHECK AVAILABILITY
2018 Ram 2500 Black - 3C6UR5MLXJG190550
Mileage:
20,633 mi
Exterior Color:
Black
Interior Color:
Black
4.5 (8)
| | |
| --- | --- |
| Body Style: | Pickup |
| Engine: | 6 Cyl Diesel |
| Transmission: | Automatic |
CHECK AVAILABILITY
2017 Ford F-250 - 1FT7W2BTXHEE63004
Mileage:
31,338 mi
Exterior Color:
Blue
Interior Color:
Black
4.5 (3)
| | |
| --- | --- |
| Body Style: | Pickup |
| Engine: | 8 Cyl Diesel |
| Transmission: | Automatic |
$55,945

$1002.76 Est. Mo.
CHECK AVAILABILITY
2016 Ram 1500 SLT - 1C6RR6LM3GS389835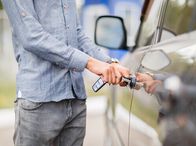 Mileage:
19,718 mi
Exterior Color:
Red
5 (6)
| | |
| --- | --- |
| Body Style: | Pickup |
| Engine: | 6 Cyl Diesel |
| Transmission: | Automatic |
CHECK AVAILABILITY
SEARCH CAR INVENTORY
Houston, TX is named after S. Houston, the first President of the Texas Republic. It is the energy capital of the world. Its inter-continental airport is the only one of that type in the world. When you apply the brakes in the used car the car should continue in a straight line. If the car pulls noticeably to the right or the left, the problem could be due to front brake calipers, pads, the suspension or the steering gear.

Any Credit Ok!